Theatrical Music Composition and Production


In 1991 Jeremy was asked to become musical director of Resolutions Theatre Company. This non-profit organization provided the opportunity for students to experience life within a professionally orientated acting company. Under the direction of Di Coleman major productions were performed each summer with talent shows and other fund-raising events taking place in the winter.


A number of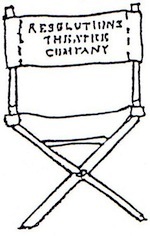 productions such as A Midsummer Night's Dream, Four Seasons - The Agricultural Show and Bright Stream Between the Hills - Pocahontas attracted national media interest. The group proved to be an asset to St George's School, Gravesend from which the talent and facilities were drawn and the town as a whole.

This award-winning project served as an excellent springboard for those interested in pursuing arts as careers and some of the students are now established in television, musical theatre and both in front and back of house roles. For example, Bright Stream Between The Hills - Pocahontas in 1993 included in the cast, a young Chris Simmons who has gone on to establish a successful acting career, featuring as DC Mickey Webb in
The Bill
and voicing Carlsberg commercials.

For Jeremy, involvement in the company over its 7 year existence gave his fledgling compositional skills invaluable exposure and rewarding experience of encouraging young people in developing their musical abilities. It has also provided him life-long friendship.


Back to
menu